Blogpost: Summer Pulse at the Library
July 5, 2018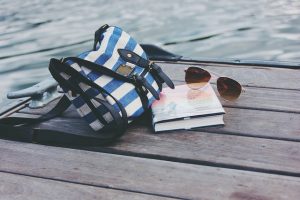 Activity in the Brandon Library's Children's Department is amping up. Kids dash to and fro with armloads of Munsch and Skippyjon Jones books. Parents gather brochures and reading lists from the desk. Cut-out stars form a neon constellation in the Picture Book House, each star with the name of a child in the summer Read-To-Me program. All this is to say: summer is upon us.
Library work shifts with the seasons. Rewinding the calendar, the year starts quietly in January. Book clubs, writing groups, Story Times and Baby Times putter along. Patrons struggle through flus and blizzards, while the library staff toils away on collection management, ordering and cataloguing new books, and weeding the outdated material.
Like everything else in the prairies, public libraries shift gears in the spring. As the weather warms up, so do preparations for the summer. In fact, summer preparations can all but consume May and June: summer programs are planned and scheduled; TD Summer Reading Club materials arrive in bulk from Toronto; posters, handouts, and banners churn from the printer. Hundreds of elementary students invade the library as teachers bring their classes for tours, stories, and library cards. Nothing dispels the image of the library as a quiet sanctum quite like a parade of second-graders.
At the Brandon Library, we hire a student each summer to help with the extra programming. Funded through Canada Summer Jobs, the student spends eight busy weeks assembling crafts and corralling kids. Programs this year include "Dreamers," "Super Stars," and "Night Owls" for the younger set – all weekly story times. For older kids (ages 9-12) we have writing, art, and an escape room, among other offerings. New this year, we also have a range of teen programs, including writing, book clubbing, and art making. This summer also sees a short story contest and a bookmark design contest.
Anyway, the point is: July and August are busy.
Fast-forwarding the calendar, September promises a breather. Only a slight breather, however, as Brandonites pile home from summer vacations and regular programming resumes. October and November are probably the busiest months for adult events – book clubs, author readings, memoir writing, and English conversation groups. Kids return for Story Times, Pyjama Times, Science Saturdays and afterschool clubs.
From November, fall cascades into winter. Nights lengthen, temperatures plummet, and people shift into holiday mode. Before you know it, we're back at January, ordering books and culling the duds.
But we're getting ahead of ourselves. This week is July, and no one wants to think about January. For the next two months, enjoy the summer and all the activity it brings!