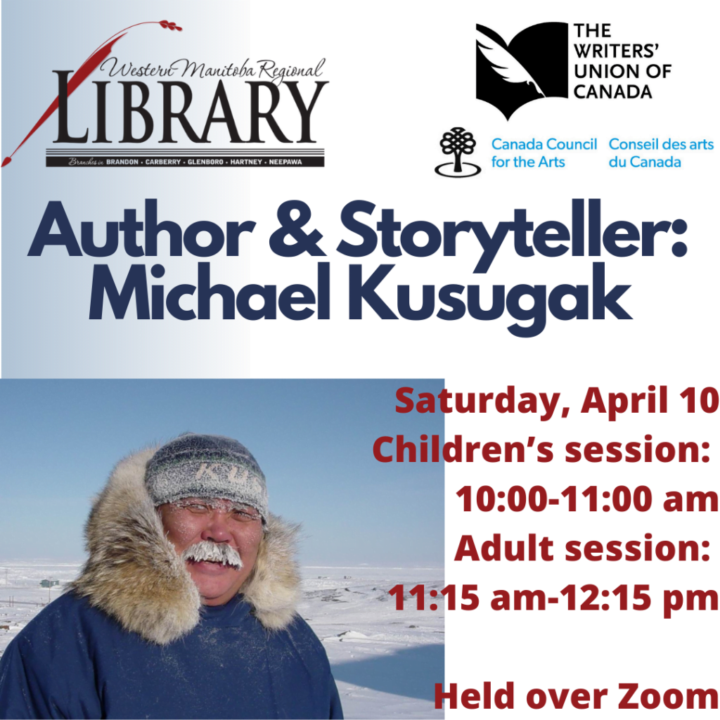 Upcoming Author Reading: Michael Kusugak
Wednesday March 17, 2021
Michael Kusugak is an award-winning Canadian Children's author and storyteller. His books include Northern Lights: The Soccer Trails, A Promise is a Promise (co-written by Robert Munsch), and My Arctic 1, 2, 3.
Michael Kusugak will join the WMRL over Zoom on Saturday, April 10th. The first session is geared towards children (ages 6 and up) and will be held from 10:00-11:00 am. The second session, for adults, will be held from 11:25 am to 12:15 pm.
Kusugak will read, share stories about Arctic and Inuit culture, and discuss the art and practice of storytelling.
Registration is required ahead of time for this program. Please email programs@nullwmrl.ca or call 204-727-6648 ext. 9 to secure a spot.
The Western Manitoba Regional Library would like to acknowledge the support of Canada Council for the Arts and The Writers' Union of Canada for providing grant funding to make this event possible. You can visit the Canada Council for the Arts website here: https://canadacouncil.ca