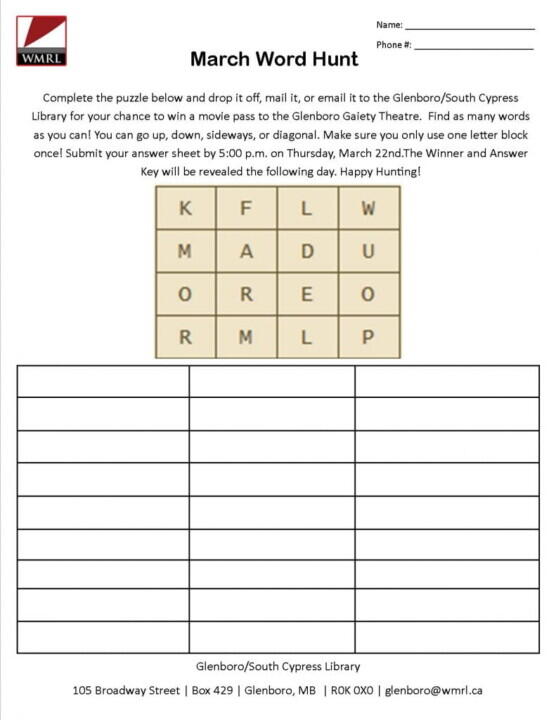 Freedom to Read Week & New Contest
Tuesday March 6, 2018
February 25 to March 3 is Freedom to Read Week at the library. It is at this time that we encourage all Canadians to think about what it means to have the right to read whatever material we choose. Intellectual Freedom is something we should all be grateful for.
Congratulations to the winner of the I Love to Read Month Crossword Puzzle! Answer Keys can be found at the library and a copy is also posted on the bulletin board at the Post Office.
A new month means another opportunity for you to win a movie pass to the Glenboro Gaiety Theatre . . .
This month's contest is inspired by the board game 'Boggle'. This month's puzzle will be available at the library and on the bulletin board at the Post Office. Try to find as many words as you can and then drop off, email, or send in your answer sheet to the Glenboro/South Cypress Library-105 Broadway Street/Box 429, Glenboro, MB, R0K 0X0/glenboro@wmrl.ca.
Speaking of board games, the Glenboro/South Cypress Library now has space for you to play board games! Stop by and see what we have to offer! You can play with a group or by yourself. Just a quick note; these board games are non circulating, meaning they have to be played at the library. Hope to see you soon!
The Glenboro/South Cypress Library is open Tuesday to Friday from 9am to 5pm.