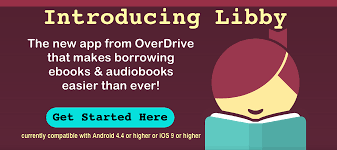 Glenboro Library
Thursday January 11, 2018
Two topics for you this month . . .
OverDrive Welcomes Libby
Are you having issues with OverDrive? Don't fret! OverDrive has developed a new and easier to use app called Libby. All you have to do is download Libby onto your tablet or device and re-enter your library information. Libby is available from the App Store, Google Play, or Microsoft depending on your device. All of your loans will automatically be transferred from Overdrive over to Libby. If you have any problems with this process, you can always bring your device to the library and I would be more than happy to help you get back on your reading track! For more information on Libby, you can also visit
https://meet.libbyapp.com/
A New Year brings new endeavors….
The Glenboro/South Cypress Library is teaming up with the Glenboro Gaiety Theatre to offer monthly contests.
The prize will be a free pass to a movie at the Glenboro Gaiety Theatre.
This month we bring you The New Year's Resolutions Contest!
There are New Year's Resolutions Bookmarks scattered around Glenboro on various bulletin boards. What you have to do is find one of these bookmarks, fill in your New Year's Resolutions (be sure to include your name and phone number), and then drop your bookmark into the contest bucket located at the Glenboro/South Cypress Library. The draw will be made on Thursday, January 25th at 5 p.m. and the winner will receive a free movie pass!
The Glenboro/South Cypress Library is located at 105 Broadway Street in Glenboro and is open Tuesday to Friday from 9 a.m. to 5 p.m.