Summer Reading at the Library
Friday June 15, 2018
Summer is here and that means more time for summer reading! Register your young readers for the Summer Reading Club at the Neepawa Library starting Monday, June 25.  This year's theme is "Feed Your Passions – Reach for the Stars . . . Follow Your Dreams"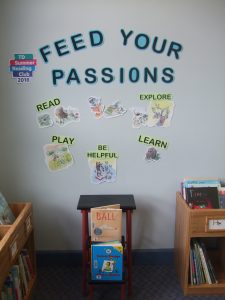 which means we'll be exploring all the awesome and exciting things that keep us interested in learning and growing.  The reading club is for all ages, from those who still need a little help to read to those who are reading on their own, including teen readers. There are stickers and rewards to be earned as well as incentive prizes based on numbers of books, minutes and pages read.
We also have a summer reading club for adults – why should kids have all the fun?!  Simply submit short book reviews of the books you read over the summer for a chance to win a prize.   There's something for everyone at the library this summer. Drop in to register or to pick up some information.
And speaking of Feeding Your Passions, keep in mind all of the digital services available through the Western Manitoba Regional Library system.  Ideal for summer vacation trips or for extended stays at the campground, our electronic and audiobooks, movies and music are portable and there's no risk of late fees for overdue items because they return automatically.
Using eLibraries Manitoba, hoopla and Flipster is a great way to load up your electronic devices with a stash of reading so you can be away from home and not run out of reading material!
"A reader lives a thousand lives before he dies," said Jojen. "The man who never reads lives only one." – George R.R. Martin, Game of Thrones